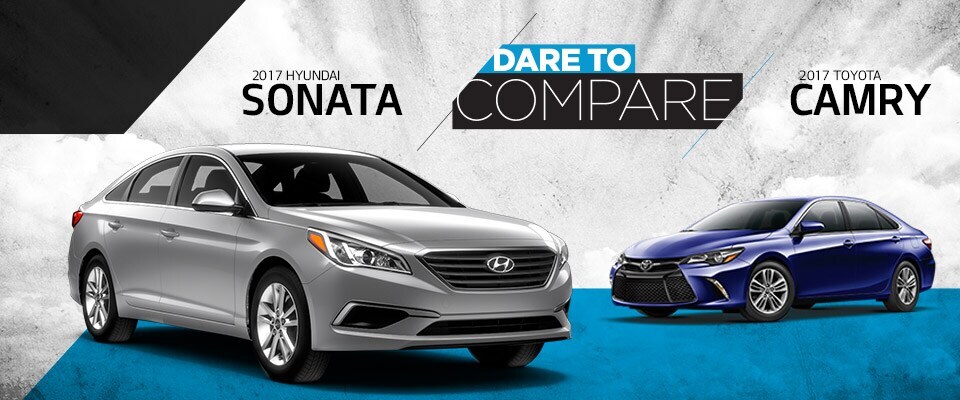 Price
Possibly one of the most important factors when considering what car to buy is your budget, and as a result, price is a pretty big deal. The Sonata and Camry are sedans in the same price range, sure, but when you break them down to their MSRP, you find that there's over a $1,000 price difference. That may not sound like much when the 2017 Toyota Camry costs $23,070 in comparison to the Hyundai Sonata's $21,950 price tag, but that's $1,000 you can put towards available features, or $1,000 you won't have to pay interest on when taking out an auto loan.
Power
If we are comparing base engines, The Hyundai Sonata's 185-HP 2.4-liter 4-cylinder engine is said to feel much more capable and nimble that the Camry's 2.5-liter engine, which delivers 178 HP. That's because the Sonata uses innovative direct-injection technology while the Camry does not. Additionally, the 2017 Sonata gets better mileage compared to the Camry - 36 mpg on the highway compared to the Toyota Camry's 33 mpg.*
Interior
Critics agree that the newly-designed Hyundai Sonata offers an interior that feels more upscale and modern, with styling cues from the luxurious Genesis. Additionally, the Camry lags behind the Sonata in terms of interior volume; it only has 118.1 cubic feet of cabin space, while the Sonata has 122.4 cubic feet.
Available Amenities
We can be pretty straightforward with this one. Here's a list of available features the Hyundai Sonata has that the Toyota Camry doesn't: a panoramic sunroof, a hands-free smart trunk, and even smartphone integration with Android Auto.
Verdict: It's pretty clear that the 2017 Hyundai Sonata is the winner in this competition. Not only is it more affordable than the Camry, but it also gets more power, has more options, and gives drivers plenty of leg room to stretch. Stop by The Duell's Evansville Hyundai to check out the Hyundai Sonata today.
*All fuel economy numbers are based on EPA estimates and may vary depending on the driver